SKU: MBG-TP
*** Available only in Singapore ***
Limited Edition MARVEL® Hero Elite Series
This relentless, determined, and ruthless anti-hero was born from pain and loss yet, he found a purpose. The Punisher gloves were inspired by Frank Castle's tactical, black-ops combat gear. The dark rugged design is accompanied by Frank's signature warning to all who oppose him, the Punisher skull.
These gloves were based on our bestseller T3 design, giving you the wrist support, hand protection, & comfort/fit you need.
100% Satisfaction guarantee
This is the best boxing glove in the world and we stand by it.
Industry-leading wrist support
Versatile custom fit by Dual-X™
Proprietary foam composition
Ultra durable microfiber leather
Odor-resistant antimicrobial lining
Certificate of authenticity
Proper, Powerful Punches
Exclusive design protects and performs. The foam structure runs from your knuckles down over the top of your wrist to protect you from injuries, and increase your performance.
All Sizes. All Needs. Perfect Fit.
Ultimate versatility. The fully adjustable Dual-X™ closure system works by combining 2 straps, allowing you to customize the fit of your Captain America boxing glove for your specific need.
Hand Protection You Can Trust
Custom foam composition designed to protect and last. Each layer of foam has a different way to absorb and dissipate impact force. We determined the optimal combination for this glove by collaborating with the University of Waterloo.
Feel The Difference
Tried and tested ergonomics. The thumb position, pocket size, and design deliver the most comfortable and secure fit on the market.
Stop the odor
before it starts.
High-quality XT2® silver lining. The silver in the lining has antibacterial properties that keep your gloves smelling fresh for longer.
Details that make a difference
Intricate design and materials. Each glove has dozens of design elements that make them unique, limited edition collector's pieces.
Hand made
Each glove is made by experienced artisans. Expert craftsmanship, high-end materials, techniques, and finishes come together to make this your next favorite glove.
Wrist Support: Dual-X® plus 4x Fusion Splinting®
Hand Protection: Deltra-EG® multi-layered technology foam
Closure: Dual-X® dual-strap interlocking closure
Lining: Temperature regulating AG® Fabric
Materials: Vylar® Engineered leather
Ergonomics: Ergonomic thumb position
Extras: Attached thumb, perforated palm, grip bar
Best for: Intermediate / advanced
Features
Custom Punisher design with intricate character details
Dual-X interlocking wrist straps deliver a comfortable & precise fit
World-renowned splinted support provides perfect wrist alignment
Multi-layered technology foam composition supplies max knuckle protection
Ultra-soft temperature regulating lining keeps your hands cool
Hayabusa X Marvel certificate of authenticity
World-Renowned Wrist Support
Hayabusa's patented Fusion Splinting® and Dual-X® closure deliver unparalleled wrist support. Once you strap up, your hands are protected by splints that perfectly align your hands and wrists to prevent injuries as you train.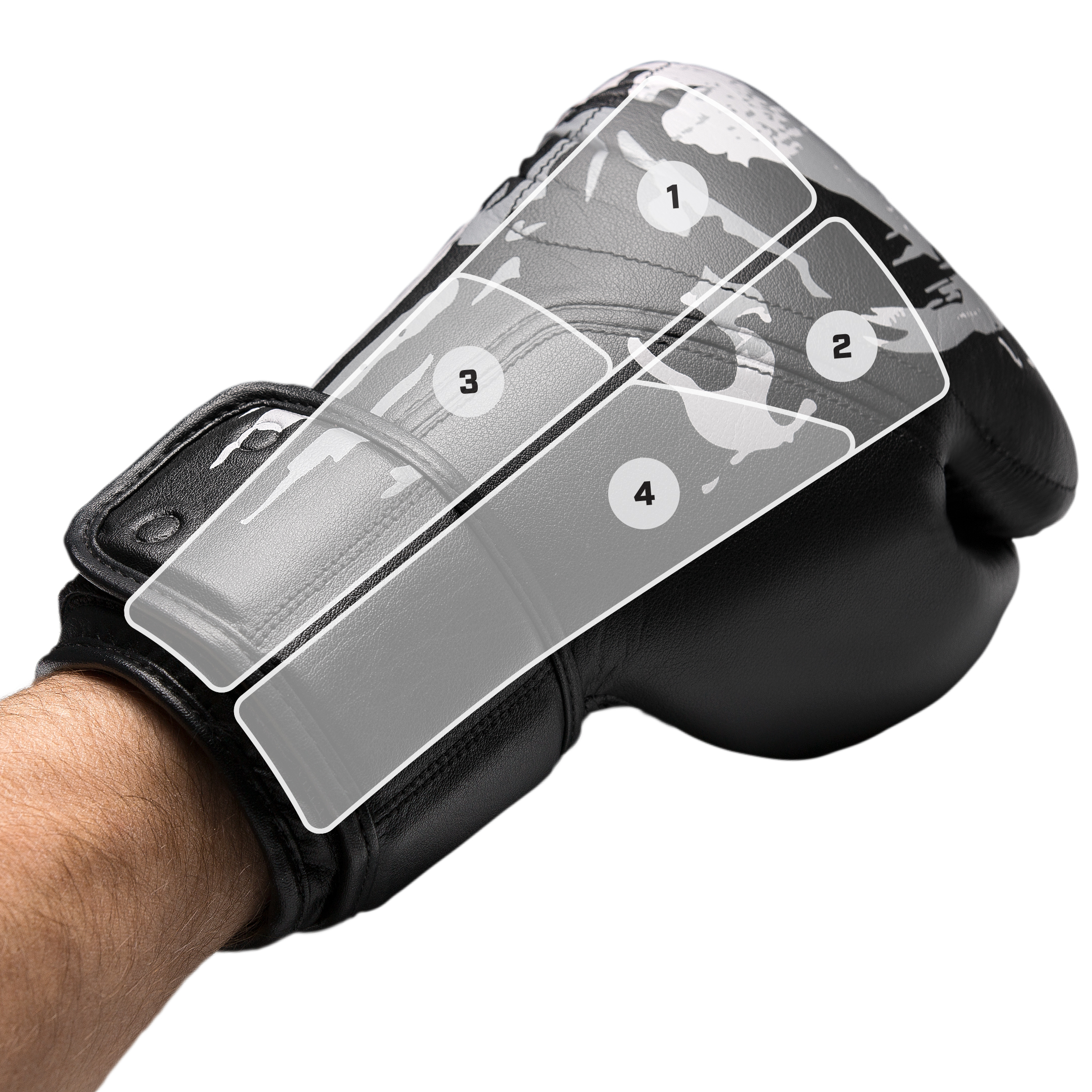 High-Impact Protection
Our exclusive Deltra-EG® knuckle protection consists of a specialized technology foam composition designed to absorb impacts and dissipate energy, so your hand is always ready to land the next strike.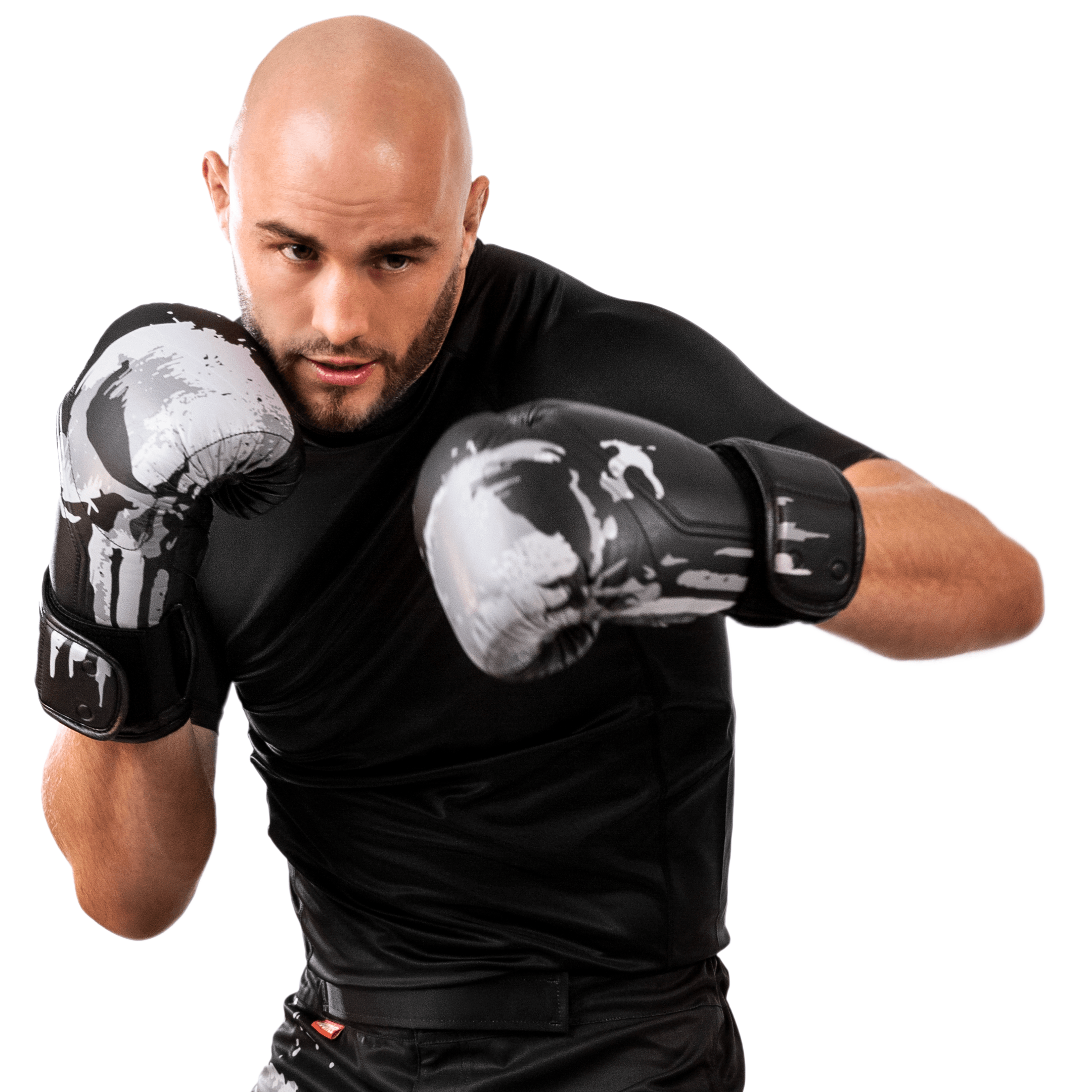 Official Marvel Boxing Gloves
Each glove is meticulously crafted to reflect your favorite Marvel characters with dozens of intricate design elements to make them distinctive training gloves and official Marvel collector's pieces.